The Cronus Rackmount Series Protects And Prevents Business Interruptions
Protects and prevents business interruptions with our cost efficient Cronus Series. The Cronus Series is a rack or tower UPS with a true double conversion topology. It provides a pure sine wave output and seamless power correction to critical equipment and applications where power protection is essential to keep daily operations ongoing.
Our online UPS can be equipped with Extended Battery Modules (EBM) to extend backup runtime. Furthermore, Cronus' ECO mode for energy saving increases the model's productivity time, ensuring the UPS is being utilized to its full potential.
This model comes with an LCD control panel, battery and power management system. The Cronus Series consists of 1kVA to 10kVA models, where it offers generator compatibility and delivers clean electricity with zero transfer time from AC power to battery mode.
Cronus Rackmount Series Provides Seamless Power Correction To Critical Equipment Such As
01
Recording Studio
Specialized facility equipped with audio recording equipment and technology to capture, edit, and produce high-quality sound recordings.
02
Office Server
Central computer system used to store, manage, and share data, applications, and resources within a business environment, and efficient access to information among employees.
03
Critical Application
System that is essential to an organization's core operations, often involving tasks like data processing, communication, or financial transaction.
PRODUCT FEATURES
Cronus Rackmount Series Provides Power Protection That Is Essential To Keep Daily Operations Ongoing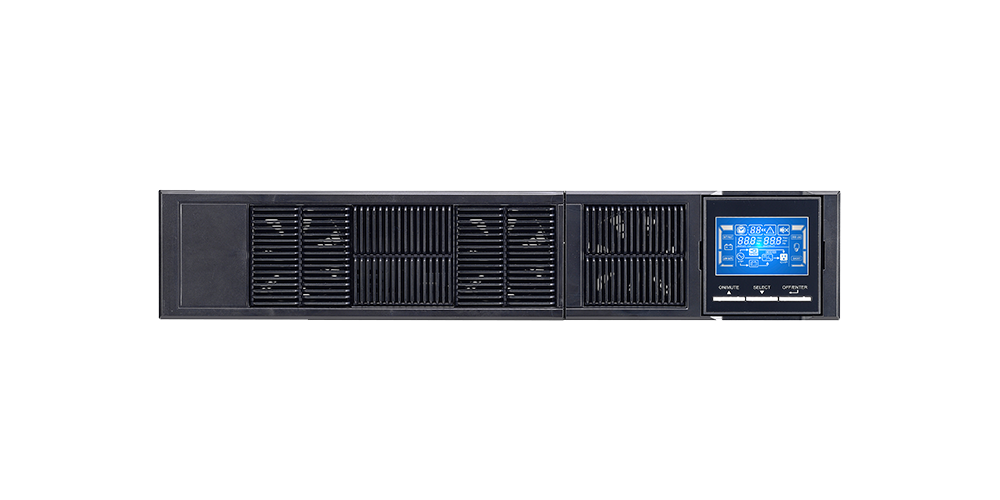 Cronus 1KR (KRS)
| | |
| --- | --- |
| Model | Cronus 1KR (KRS) |
| Capacity / Rating (KVA) | 1 |
| Input Voltage Nominal (VAC) | 230 |
| Output Power Factor | 0.8 |
| Efficiency | 83% |
| Output Outlets | 3 x IEC Sockets |
| Physical (Dimension and Weight) | 438W x 310D x 88H mm (2U) 12.0KG |
| Design Standards | CE and SIRIM |
Cronus 2KR (KRS)
| | |
| --- | --- |
| Model | Cronus 2KR (KRS) |
| Capacity / Rating (KVA) | 2 |
| Input Voltage Nominal (VAC) | 230 |
| Output Power Factor | 0.8 |
| Efficiency | 87% |
| Output Outlets | 4 x IEC Sockets |
| Physical (Dimension and Weight) | 438W x 410D x 88H mm (2U) 19.0KG |
| Design Standards | CE and SIRIM |
Cronus 3KR (KRS)
| | |
| --- | --- |
| Model | Cronus 3KR (KRS) |
| Capacity / Rating (KVA) | 3 |
| Input Voltage Nominal (VAC) | 230 |
| Output Power Factor | 0.8 |
| Efficiency | 90% |
| Output Outlets | 4 x IEC Sockets |
| Physical (Dimension and Weight) | 438W x 630D x 88H mm (2U) 29.3KG |
| Design Standards | CE and SIRIM |
Cronus 6KR (KRS)
Model
Cronus 6KR (KRS)
Capacity / Rating (KVA)
6
Input Voltage Nominal (VAC)
230
Output Power Factor
0.8
Efficiency
92%
Output Outlets
Terminal
Physical (Dimension and Weight)
UPS: 438W x 500D x 88H mm (2U) 15KG
EBM: 438W x 580D x 133H mm (3U) 48 / 61 KG
Design Standards
CE and SIRIM
Cronus 10KR (KRS)
Model
Cronus 10KR (KRS)
Capacity / Rating (KVA)
10
Input Voltage Nominal (VAC)
230
Output Power Factor
0.8
Efficiency
93%
Output Outlets
Terminal
Physical (Dimension and Weight)
UPS: 438W x 500D x 88H mm (2U) 18KG
EBM: 438W x 580D x 133H mm (3U) 51 / 61 KG
Design Standards
CE and SIRIM