The Arena Series Is Not Limited By Physical Factors Such As Space Storage
Neuropower's Arena Modular UPS is the first ever modular UPS introduced in the market where it does not need any additional special chassis for installation. Its power modules can be installed in a standard 19 inch server rack; if you do not have any rooms in your server racks or do not have one, the Arena's power modules can be placed on a flat sturdy surface as standalone (tower) units. Users will only need to use the basic few things packed together with the power module in its box.
The series does not just focus on the ease of installation Neuropower's Arena Series' versatility goes beyond by making sure it is constructed using carefully picked components and technology for the best possible reliability in power protection for critical applications.
The Arena Series is just so much fun and convenient to use because users do not need to be limited by any external physical factors such as space storage, etc. Yet, they can enjoy all the incredible benefits a modular UPS has to offer.
The Arena Series Versatility Supports Applications Such As
01
Mission Critical Application
Absolutely essential for the functioning of an organization's core operations and tasks, and any failure or disruption could have severe impacts on business continuity, safety, or overall success.
02
Data Center
Centralized facility used by organizations to house and manage their critical IT infrastructure, including servers, networking equipment, and storage systems.
03
Medical Imaging Support
Providing assistance and expertise in interpreting and analyzing diagnostic images, such as X-rays, MRIs, and CT scans, to aid healthcare professionals in accurately diagnosing and treating patients.
PRODUCT FEATURES
The Arena Series Is Constructed Using Carefully Picked Components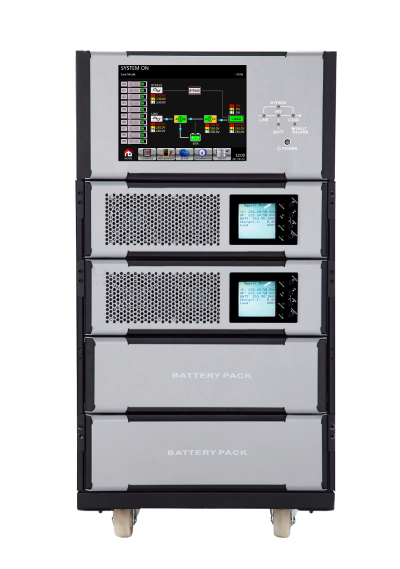 Arena-3P 10KS
| | |
| --- | --- |
| Model | Arena-3P 10KS |
| Capacity / Rating (KVA) | Up to 100KVA |
| Input Voltage Nominal (VAC) | 3Ph 415 |
| Module Specifications | 10KVA / 3U |
| Output Power Factor | 1 |
| Efficiency | 94% |
| Physical (Dimension and Weight) | 418W x 678D x 129H mm (3U) 20.5KG |
| Design Standards | CE |
Arena-3C 10KS
| | |
| --- | --- |
| Model | Arena-3C 10KS |
| Capacity / Rating (KVA) | Up to 100KVA |
| Input Voltage Nominal (VAC) | 3Ph 415 |
| Module Specifications | 10KVA / 3U |
| Output Power Factor | 1 |
| Efficiency | 94% |
| Physical (Dimension and Weight) | 418W x 678D x 129H mm (3U) 20.5KG |
| Design Standards | CE |
Arena-10KS
| | |
| --- | --- |
| Model | Arena-10KS |
| Capacity / Rating (KVA) | Up to 100KVA |
| Input Voltage Nominal (VAC) | 1Ph 230 |
| Module Specifications | 10KVA / 3U |
| Output Power Factor | 1 |
| Efficiency | 93.5% |
| Physical (Dimension and Weight) | 418W x 678D x 129H mm (3U) 20.5KG |
| Design Standards | CE |