The FlexiAisle Offers Unmatched Flexibility
Introducing FlexiAisle, our cutting-edge modular data center solution designed to revolutionize your data center infrastructure. As the name suggest, FlexiAisle integrates various independent units such as IT cabinets, power distribution units (PDB), closed components, refrigeration units, cabling, and integrated operation and maintenance (O&M) into a single module.
With all components prefabricated in the factory, FlexiAisle offers unmatched flexibility, allowing for easy disassembly, transportation, and quick on-site assembly.
FlexiAisle Integrates Various Independent Units Suitable For
01
Corporate
Ensuring the availability of electricity for office spaces, comm systems, IT infrastructure, meeting rooms, contributing to efficient workflow, collaboration, and overall productivity.
02
Government
Run essential infrastructure, communication systems, emergency services, public transportation, administrative offices, and other facilities, enabling the delivery of public services, governance, and emergency response to citizens.
03
Aviation
Ensuring uninterrupted power supply and zero data loss, providing the aviation sector with the confidence to soar higher and safer than ever before.
PRODUCT FEATURES
The FlexiAisle Allows Easy Disassembly, Transportation, And Quick On-site Assembly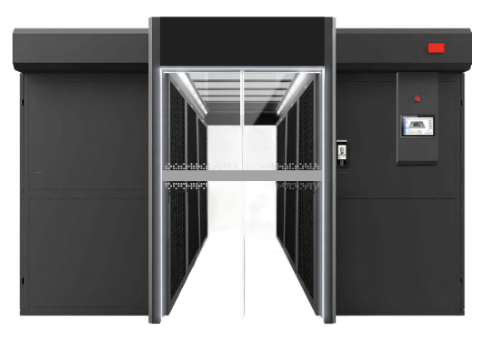 FlexiAisle
Model
FlexiAisle
Cabinet Power (kW)
Typical value 2.2~4.4kW;
Single cabinet power >10kW (optional)
Input Voltage (VAC)
3Ph 415
Rack Quantity
Dual-row: ≤ 48
Single-row: ≤ 24
Cooling Capacity (kW)
25 - 50
Physical Dimension
3600W x ≤15000D x 2400H mm
Design Standards
CE and ISO