The Galleon Pro III Rackmount Series Provides Unique Modular Design Supporting Critical Applications
The Galleon Pro III series' unique new technology allows users to choose one out of the three input/output configurations as desired for UPS capacity ranging from 10kVA to 20kVA. For UPS capacity above 100kVA (3 phase), its unique modular design supports critical applications in the IT, commercial and medical industries using three separate modules in one UPS system with a power factor of 1.0 for maximum efficiency and redundancy.
For minimum downtime, the unique system's power modules, communicator modules and even terminals are swappable for trained personnel via front door access making maintenance so much easier and less time consuming.
The Galleon Pro III's unparalleled leading edge unique technology, allows users to enjoy the benefits of modular UPS systems at a feasible tower UPS cost, making the Galleon Pro III very much desirable when replacing old UPS systems regardless of industry and applications.
The Galleon Pro III Rackmount Series Supports Critical Applications Such As
01
Data Center
Centralized facility used by organizations to house and manage their critical IT infrastructure, including servers, networking equipment, and storage systems.
02
Medical Support
Encompasses a range of services and assistance provided to patients, healthcare professionals, and medical institutions to ensure effective patient care, disease management, and operational efficiency within the healthcare system.
03
Laboratory Application
Designed to assist scientists, researchers, and technicians in managing, analyzing, and interpreting data generated in laboratory experiments and research activities.
PRODUCT FEATURES
The Galleon Pro III Rackmount Series Unparalleled Leading Edge Unique Technology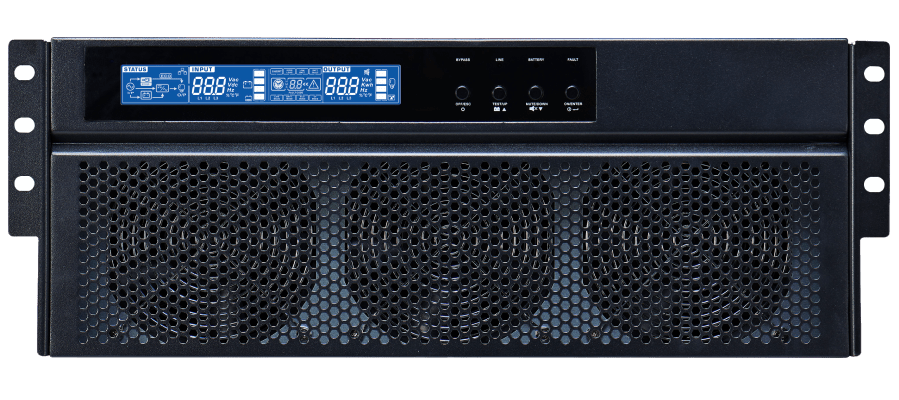 Galleon Pro III 10KRS
| | |
| --- | --- |
| Model | Galleon Pro III 10KRS |
| Capacity / Rating (KVA) | 10 |
| Input Voltage Nominal (VAC) | 1Ph 230 or 3Ph 415 |
| Output Power Factor | 1 |
| Efficiency | 95.5% |
| Physical (Dimension and Weight) | 438W x 680D x 133H (3U) mm 26.0KG |
| Design Standards | CE |
Galleon Pro III 15KRS
| | |
| --- | --- |
| Model | Galleon Pro III 15KRS |
| Capacity / Rating (KVA) | 15 |
| Input Voltage Nominal (VAC) | 1Ph 230 or 3Ph 415 |
| Output Power Factor | 1 |
| Efficiency | 95.5% |
| Physical (Dimension and Weight) | 438W x 680D x 133H (3U) mm 28.0KG |
| Design Standards | CE |
Galleon Pro III 20KRS
| | |
| --- | --- |
| Model | Galleon Pro III 20KRS |
| Capacity / Rating (KVA) | 20 |
| Input Voltage Nominal (VAC) | 1Ph 230 or 3Ph 415 |
| Output Power Factor | 1 |
| Efficiency | 95.5% |
| Physical (Dimension and Weight) | 438W x 680D x 133H (3U) mm 28.0KG |
| Design Standards | CE |
Galleon Pro III 30KRS
| | |
| --- | --- |
| Model | Galleon Pro III 30KRS |
| Capacity / Rating (KVA) | 30 |
| Input Voltage Nominal (VAC) | 3Ph 415 |
| Output Power Factor | 1 |
| Efficiency | 95.5% |
| Physical (Dimension and Weight) | 438W x 680D x 133H (3U) mm 40.0KG |
| Design Standards | CE |
Galleon Pro III 40KRS
| | |
| --- | --- |
| Model | Galleon Pro III 40KRS |
| Capacity / Rating (KVA) | 40 |
| Input Voltage Nominal (VAC) | 3Ph 415 |
| Output Power Factor | 1 |
| Efficiency | 95.5% |
| Physical (Dimension and Weight) | 438W x 797D x 176H (4U) mm 40.0KG |
| Design Standards | CE |
Galleon Pro III 60KRS
| | |
| --- | --- |
| Model | Galleon Pro III 60KRS |
| Capacity / Rating (KVA) | 60 |
| Input Voltage Nominal (VAC) | 3Ph 415 |
| Output Power Factor | 1 |
| Efficiency | 95.5% |
| Physical (Dimension and Weight) | 438W x 797D x 176H (4U) mm 45.0KG |
| Design Standards | CE |