The Cronus Tower Series Protects And Prevents Business Interruptions
Protects and prevents business interruptions with our cost efficient Cronus Series. The Cronus Series is a rack or tower UPS with a true double conversion topology. It provides a pure sine wave output and seamless power correction to critical equipment and applications where power protection is essential to keep daily operations ongoing.
Our online UPS can be equipped with Extended Battery Modules (EBM) to extend backup runtime. Furthermore, Cronus' ECO mode for energy saving increases the model's productivity time, ensuring the UPS is being utilized to its full potential.
This model comes with an LCD control panel, battery and power management system. The Cronus Series consists of 1kVA to 10kVA models, where it offers generator compatibility and delivers clean electricity with zero transfer time from AC power to battery mode.
Cronus Tower Series Provides Seamless Power Correction To Critical Equipment Such As
01
Banking Facilities
Range of services offered by financial institutions to customers, including account management, deposits, withdrawals, loans, and online banking.
02
Point of Ethernet
Networking technology that allows computers, devices, and systems to connect and communicate within local area networks (LANs) enabling data transfer and resource sharing.
03
Control Room
Centralized facility equipped with technology and systems for monitoring, managing, and coordinating various operations, in industries like manufacturing, energy, and emergency response.
PRODUCT FEATURES
Cronus Tower Series Provides Power Protection That Is Essential To Keep Daily Operations Ongoing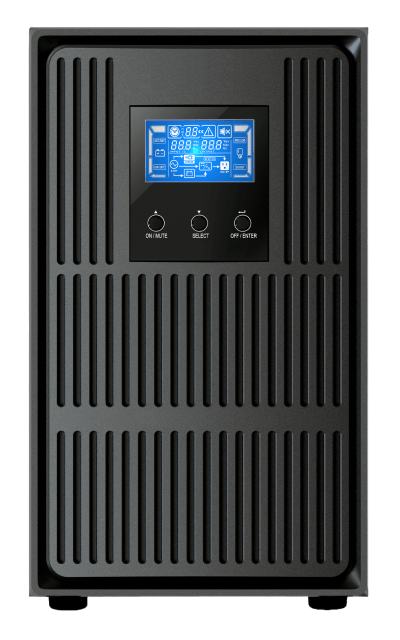 Cronus 1K (KS)
| | |
| --- | --- |
| Model | Cronus 1K (KS) |
| Capacity / Rating (KVA) | 1 |
| Input Voltage Nominal (VAC) | 230 |
| Output Power Factor | 0.8 |
| Efficiency | 83% |
| Output Outlets | 2 x British Sockets |
| Physical (Dimension and Weight) | 145W x 282D x 220H mm 9.8KG |
| Design Standards | CE and SIRIM |
Cronus 2K (KS)
| | |
| --- | --- |
| Model | Cronus 2K (KS) |
| Capacity / Rating (KVA) | 2 |
| Input Voltage Nominal (VAC) | 230 |
| Output Power Factor | 0.8 |
| Efficiency | 87% |
| Output Outlets | 2 x British Sockets |
| Physical (Dimension and Weight) | 145W x 397D x 220H mm 17.0KG |
| Design Standards | CE and SIRIM |
Cronus 3K (KS)
| | |
| --- | --- |
| Model | Cronus 3K (KS) |
| Capacity / Rating (KVA) | 3 |
| Input Voltage Nominal (VAC) | 230 |
| Output Power Factor | 0.8 |
| Efficiency | 90% |
| Output Outlets | 3 x British Sockets |
| Physical (Dimension and Weight) | 190W x 421D x 318H mm 27.6KG |
| Design Standards | CE and SIRIM |
Cronus 6K (KS)
| | |
| --- | --- |
| Model | Cronus 6K (KS) |
| Capacity / Rating (KVA) | 6 |
| Input Voltage Nominal (VAC) | 230 |
| Output Power Factor | 0.8 |
| Efficiency | 92% |
| Output Outlets | Terminal |
| Physical (Dimension and Weight) | 190W x 369D x 573H mm 49.0KG |
| Design Standards | CE and SIRIM |
Cronus 10K (KS)
| | |
| --- | --- |
| Model | Cronus 10K (KS) |
| Capacity / Rating (KVA) | 10 |
| Input Voltage Nominal (VAC) | 230 |
| Output Power Factor | 0.8 |
| Efficiency | 93% |
| Output Outlets | Terminal |
| Physical (Dimension and Weight) | 145W x 442D x 688H mm 66.0KG |
| Design Standards | CE and SIRIM |