The Cronus Pro Tower Series Provides Maximum Power Protection And Optimizes Energy Savings
Cronus Pro series is the ideal solution for protecting mission critical systems such as voice over internet protocol (VoIP), telecommunication devices and IT systems to ensure maximum power accountability and reliability. The Cronus Pro series is also available in both tower and rackmount configurations. It is also designed and built using state-of-the-art technology and electrical components to provide maximum power protection to the load connected and optimized energy savings.
The UPS comes with a functional LCD for load level, battery level, AC mode, battery mode and bypass mode as well as fault indicator; RS232 and HID compliant USB interfaces powered with our exclusive PowerMaster Cloud monitoring software. PowerMaster is extremely convenient for you can monitor multiple UPS on a single device and be notified instantly during any event.
The Cronus Pro Series Is The Ideal Solution For Protecting Mission Critical Systems Such As
01
Petrol Station
Providing power for various critical functions, including fuel pumps, lighting, security cameras, and fuel inventory monitoring, ensuring smooth and safe operations for customers and staff.
02
Office Desktop System
Computer setup typically used in a workplace, employed for various tasks such as office productivity, communication, data processing, and research.
03
Office Server
Central computer system used to store, manage, and share data, applications, and resources within a business environment, and efficient access to information among employees.
PRODUCT FEATURES
Cronus Pro Tower Series Is Designed And Built Using State-Of-The-Art Technology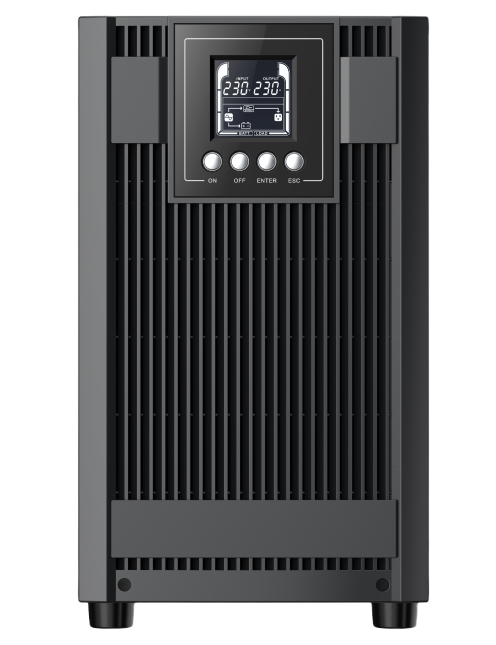 Cronus Pro 1K (KS)
| | |
| --- | --- |
| Model | Cronus Pro 1K (KS) |
| Capacity / Rating (KVA) | 1 |
| Input Voltage Nominal (VAC) | 230 |
| Output Power Factor | 0.9 |
| Efficiency | 88% |
| Output Outlets | 2 x British Sockets |
| Physical (Dimension and Weight) | 140W x 327D x 191H mm 14.5KG |
| Design Standards | CE and SIRIM |
Cronus Pro 2K (KS)
| | |
| --- | --- |
| Model | Cronus Pro 2K (KS) |
| Capacity / Rating (KVA) | 2 |
| Input Voltage Nominal (VAC) | 230 |
| Output Power Factor | 0.9 |
| Efficiency | 90% |
| Output Outlets | 2 x British Sockets |
| Physical (Dimension and Weight) | 151W x 390D x 225H mm 17.14KG |
| Design Standards | CE and SIRIM |
Cronus Pro 3K (KS)
| | |
| --- | --- |
| Model | Cronus Pro 3K (KS) |
| Capacity / Rating (KVA) | 3 |
| Input Voltage Nominal (VAC) | 230 |
| Output Power Factor | 0.9 |
| Efficiency | 91% |
| Output Outlets | 3 x British Sockets + Terminal |
| Physical (Dimension and Weight) | 196W x 416D x 342H mm 21.3KG |
| Design Standards | CE and SIRIM |
Cronus Pro 6K (KS)
| | |
| --- | --- |
| Model | Cronus Pro 6K (KS) |
| Capacity / Rating (KVA) | 6 |
| Input Voltage Nominal (VAC) | 230 |
| Output Power Factor | 0.9 |
| Efficiency | 92% |
| Output Outlets | Terminal |
| Physical (Dimension and Weight) | 196W x 412D x 702H mm 63.0KG |
| Design Standards | CE and SIRIM |
Cronus Pro 10K (KS)
| | |
| --- | --- |
| Model | Cronus Pro 10K (KS) |
| Capacity / Rating (KVA) | 10 |
| Input Voltage Nominal (VAC) | 230 |
| Output Power Factor | 0.9 |
| Efficiency | 92% |
| Output Outlets | Terminal |
| Physical (Dimension and Weight) | 196W x 412D x 702H mm 68.0KG |
| Design Standards | CE and SIRIM |