Compact Touch Series Is A Family Of Highly Reliable, Efficient And Manageable Line Interactive UPS
Designed with simple and accessible controls to improve functionality and daily operations, Neuropower's Compact Touch Series is a family of highly reliable, efficient and manageable line interactive UPS.
The compact touch model consists of a capacity ranging from 850 VA to 2,000 VA. It comes with a coloured background touch screen LCD screen to ease onsite management, as well as power management software (Viewpower) via optional USB support. Viewpower monitors the UPS status and shutdown of IT loads connected to the device locally.
The Compact Touch UPS Helps To Improve Daily Operations And Functionality For
01
ATM Machine
Perform banking transactions such as withdrawing cash, checking account balances, and transferring funds, providing convenient self-service access to their accounts outside of traditional bank hours.
02
Broadcasting System
Transmit audio and visual content, such as radio and television programs, to a wide audience through electromagnetic waves or digital signals, enabling mass communication and information dissemination.
03
Internet
Enabling the exchange of information, data, and services across the world, revolutionizing communication, commerce, education, and entertainment.
PRODUCT FEATURES
Built With Features That Makes It Highly Reliable And Manageable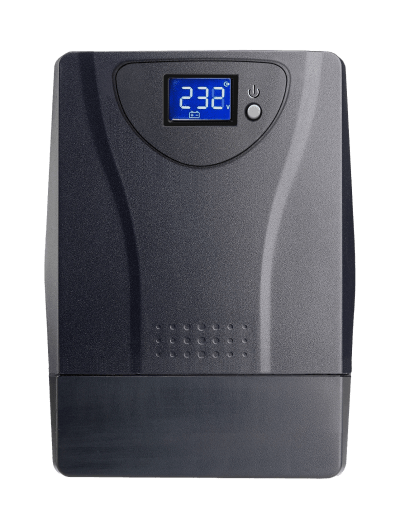 Compact Touch 850-T USB
| | |
| --- | --- |
| Model | Compact Touch 850-T USB |
| Capacity / Rating (VA) | 850 |
| Input Voltage Nominal (VAC) | 230 |
| Output Voltage Nominal (VAC) | 230 |
| Output Outlets | 3 x 3 Pin British Sockets |
| Physical (Dimension and Weight) | 101W x 300D x 142H mm 4.40KG |
| Design Standards | CE |
Compact Touch 1K0T
| | |
| --- | --- |
| Model | Compact Touch 1K0T |
| Capacity / Rating (VA) | 1000 |
| Input Voltage Nominal (VAC) | 230 |
| Output Voltage Nominal (VAC) | 230 |
| Output Outlets | 4 x 3 Pin British Sockets |
| Physical (Dimension and Weight) | 130W x 320D x 182H mm 8.20KG |
| Design Standards | CE and SIRIM |
Compact Touch 1K25T
| | |
| --- | --- |
| Model | Compact Touch 1K25T |
| Capacity / Rating (VA) | 1250 |
| Input Voltage Nominal (VAC) | 230 |
| Output Voltage Nominal (VAC) | 230 |
| Output Outlets | 4 x 3 Pin British Sockets |
| Physical (Dimension and Weight) | 130W x 320D x 182H mm 9.00KG |
| Design Standards | CE and SIRIM |
Compact Touch 1K5T
| | |
| --- | --- |
| Model | Compact Touch 1K5T |
| Capacity / Rating (VA) | 1500 |
| Input Voltage Nominal (VAC) | 230 |
| Output Voltage Nominal (VAC) | 230 |
| Output Outlets | 4 x 3 Pin British Sockets |
| Physical (Dimension and Weight) | 130W x 320D x 182H mm 10.40KG |
| Design Standards | CE and SIRIM |
Compact Touch 2K0T
| | |
| --- | --- |
| Model | Compact Touch 2K0T |
| Capacity / Rating (VA) | 2000 |
| Input Voltage Nominal (VAC) | 230 |
| Output Voltage Nominal (VAC) | 230 |
| Output Outlets | 4 x 3 Pin British Sockets |
| Physical (Dimension and Weight) | 130W x 320D x 182H mm 10.60KG |
| Design Standards | CE and SIRIM |