The Giant Commercial Series Is Heavier Duty Suitable For Industrial Or Military Level Critical Applications
Different from transformerless true online double conversion UPS with options to add an isolation transformer to the system, the Giant Commercial is a UPS designed to work with a built-in isolation transformer. Such topology makes the UPS more durable and heavier duty so even industrial or military level critical applications at super harsh environments with high temperature, high humidity, high corrosive level, lots of dust as well as vibrated environments remain protected by the UPS.
The Giant Commercial UPS gives users the freedom to customize everything from the UPS capacity, chassis, input-output voltages, and enclosure standards to even which section to place the isolation transformer (input or output).
The Giant Commercial UPS is just so exciting to use because it lets users choose the best gadgets and technology to protect what is most important to them.
The Giant Commercial Series Is Suitable For Super Harsh Environments Such As
01
Industrial Application
Technologies, processes, and equipment within production, and various industries to create goods, perform tasks, and achieve operational objectives efficiently and effectively.
02
Electrical Power Plant
Facility designed to generate electricity by converting various energy sources, such as fossil fuels, nuclear reactions, or renewable sources.
03
Oil and Gas
Drilling and extracting petroleum resources from beneath the seabed, often consisting of various equipment, machinery.
PRODUCT FEATURES
The Giant Commercial Is A UPS Designed To Work For Industrial Or Military Level Critical Applications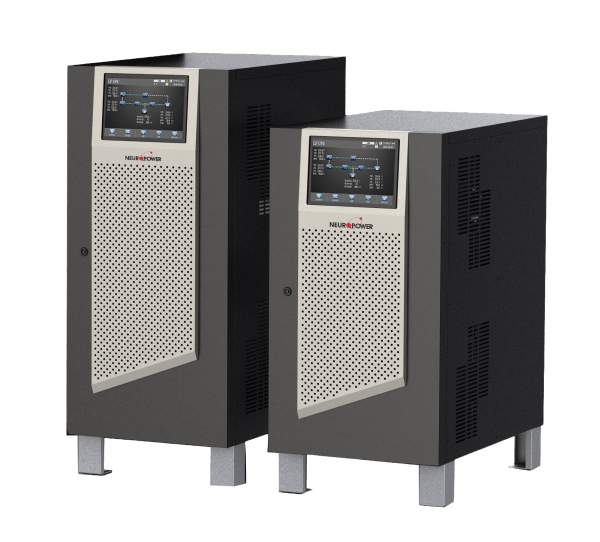 Giant 3P 10K (KS)
| | |
| --- | --- |
| Model | Giant 3P 10K (KS) |
| Capacity / Rating (KVA) | 10 |
| Input Voltage Nominal (VAC) | 3Ph 380 or 400 |
| Output Power Factor | 0.8 |
| Efficiency | 89.0% |
| Physical (Dimension and Weight) | 405W x 656D x 817H mm 118.0KG |
| Design Standards | CE |
Giant 3P 15K (KS)
| | |
| --- | --- |
| Model | Giant 3P 15K (KS) |
| Capacity / Rating (KVA) | 15 |
| Input Voltage Nominal (VAC) | 3Ph 380 or 400 |
| Output Power Factor | 0.8 |
| Efficiency | 89.0% |
| Physical (Dimension and Weight) | 405W x 656D x 817H mm 120.0KG |
| Design Standards | CE |
Giant 3P 20K (KS)
| | |
| --- | --- |
| Model | Giant 3P 20K (KS) |
| Capacity / Rating (KVA) | 20 |
| Input Voltage Nominal (VAC) | 3Ph 380 or 400 |
| Output Power Factor | 0.8 |
| Efficiency | 90.0% |
| Physical (Dimension and Weight) | 405W x 656D x 817H mm 145.0KG |
| Design Standards | CE |
Giant 3P 30K (KS)
| | |
| --- | --- |
| Model | Giant 3P 30K (KS) |
| Capacity / Rating (KVA) | 30 |
| Input Voltage Nominal (VAC) | 3Ph 380 or 400 |
| Output Power Factor | 0.8 |
| Efficiency | 90.0% |
| Physical (Dimension and Weight) | 405W x 656D x 941H mm 193.0KG |
| Design Standards | CE |
Giant 3P 40K (KS)
| | |
| --- | --- |
| Model | Giant 3P 40K (KS) |
| Capacity / Rating (KVA) | 40 |
| Input Voltage Nominal (VAC) | 3Ph 380 or 400 |
| Output Power Factor | 0.8 |
| Efficiency | 91.0% |
| Physical (Dimension and Weight) | 432W x 821D x 1159H mm 278.0KG |
| Design Standards | CE |
Giant 3P 60KS
| | |
| --- | --- |
| Model | Giant 3P 60KS |
| Capacity / Rating (KVA) | 60 |
| Input Voltage Nominal (VAC) | 3Ph 380 or 400 |
| Output Power Factor | 0.8 |
| Efficiency | 91.0% |
| Physical (Dimension and Weight) | 432W x 821D x 1159H mm 365.0KG |
| Design Standards | CE |
Giant 3P 80KS
| | |
| --- | --- |
| Model | Giant 3P 80KS |
| Capacity / Rating (KVA) | 80 |
| Input Voltage Nominal (VAC) | 3Ph 380 or 400 |
| Output Power Factor | 0.8 |
| Efficiency | 92.0% |
| Physical (Dimension and Weight) | 554W x 975D x 1286H mm 471.0KG |
| Design Standards | CE |
Giant 3P 100KS
| | |
| --- | --- |
| Model | Giant 3P 100KS |
| Capacity / Rating (KVA) | 100 |
| Input Voltage Nominal (VAC) | 3Ph 380 or 400 |
| Output Power Factor | 0.8 |
| Efficiency | 92.0% |
| Physical (Dimension and Weight) | 554W x 975D x 1286H mm 573.0KG |
| Design Standards | CE |
Giant 3P 120KS
| | |
| --- | --- |
| Model | Giant 3P 120KS |
| Capacity / Rating (KVA) | 120 |
| Input Voltage Nominal (VAC) | 3Ph 380 or 400 |
| Output Power Factor | 0.8 |
| Efficiency | 92.0% |
| Physical (Dimension and Weight) | 554W x 975D x 1326H mm 650.0KG |
| Design Standards | CE |
Giant 3P 160KS
| | |
| --- | --- |
| Model | Giant 3P 160KS |
| Capacity / Rating (KVA) | 160 |
| Input Voltage Nominal (VAC) | 3Ph 380 or 400 |
| Output Power Factor | 0.8 |
| Efficiency | 92.0% |
| Physical (Dimension and Weight) | 705W x 1051D x 1376H mm 785.0KG |
| Design Standards | CE |
Giant 3P 200KS
| | |
| --- | --- |
| Model | Giant 3P 200KS |
| Capacity / Rating (KVA) | 200 |
| Input Voltage Nominal (VAC) | 3Ph 380 or 400 |
| Output Power Factor | 0.8 |
| Efficiency | 92.0% |
| Physical (Dimension and Weight) | 705W x 1051D x 1376H mm 840.0KG |
| Design Standards | CE |