AVS iND Series Is Designed To Operate In Heavy Duty Environments
Neuropower's Industrial Automatic Voltage Stabilizer is available in both relay tapping (AVS-R) and motorized (AVS-M) configurations. The AVS-R regulates the voltage with an accuracy of ± 8% while the AVS-M regulates the voltage with an accuracy of ± 3%. The industrial AVS is the perfect solution to protect your systems from power failures and unnecessary shutdowns due to power fluctuations.
The AVS iND Series Is The Perfect Solution For
01
Commercial Use
Utilization of goods, services, or resources for business or profit-oriented purposes, as opposed to personal or non-profit applications.
02
Industrial Application
Technologies, processes, and equipment within production, and various industries to create goods, perform tasks, and achieve operational objectives efficiently and effectively.
03
Heavy Duty Environments
Demanding conditions, such as extreme temperatures, high levels of physical stress, intense vibrations, or exposure to corrosive substances.
PRODUCT FEATURES
Industrial Automatic Voltage Stabilizer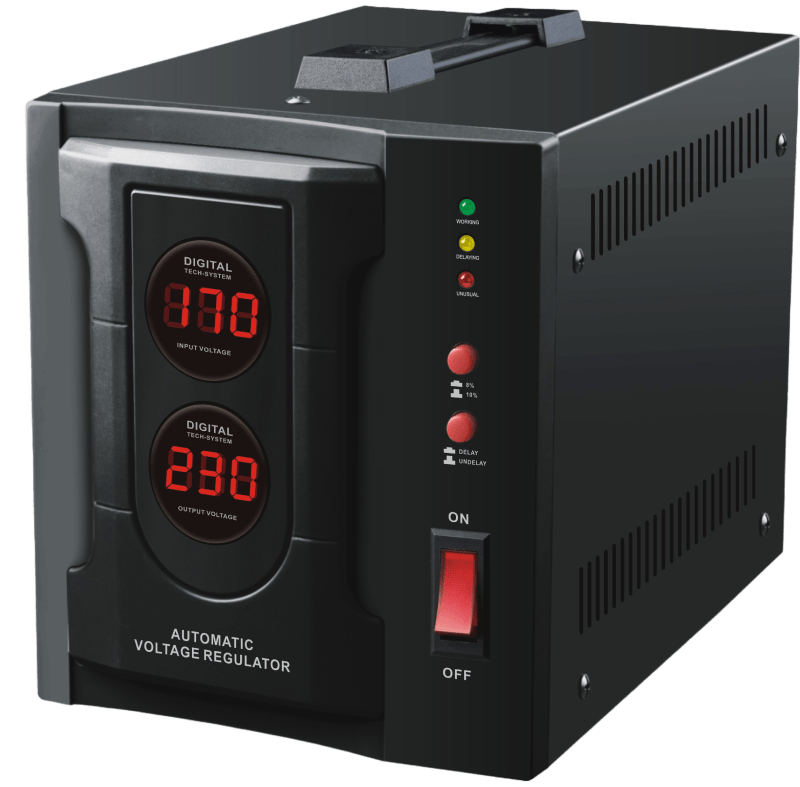 AVS R1KE
| | |
| --- | --- |
| Model | AVS R1KE |
| Capacity / Rating (VA) | 1000 |
| Input Voltage Nominal (VAC) | 230 |
| Output Voltage Nominal (VAC) | 230 |
| Physical (Dimension and Weight) | 140W X 280D X 170H mm 5.0KG |
| Design Standards | CE |
AVS R2KE
| | |
| --- | --- |
| Model | AVS R2KE |
| Capacity / Rating (VA) | 2000 |
| Input Voltage Nominal (VAC) | 230 |
| Output Voltage Nominal (VAC) | 230 |
| Physical (Dimension and Weight) | 140W X 280D X 170H mm 7.0KG |
| Design Standards | CE |
AVS R3KE
| | |
| --- | --- |
| Model | AVS R3KE |
| Capacity / Rating (VA) | 3000 |
| Input Voltage Nominal (VAC) | 230 |
| Output Voltage Nominal (VAC) | 230 |
| Physical (Dimension and Weight) | 220W X 400D X 240H mm 14.0KG |
| Design Standards | CE |
AVS R5KE
| | |
| --- | --- |
| Model | AVS R5KE |
| Capacity / Rating (VA) | 5000 |
| Input Voltage Nominal (VAC) | 230 |
| Output Voltage Nominal (VAC) | 230 |
| Physical (Dimension and Weight) | 220W X 400D X 240H mm 16.0KG |
| Design Standards | CE |
AVS M1KE
| | |
| --- | --- |
| Model | AVS M1KE |
| Capacity / Rating (VA) | 1000 |
| Input Voltage Nominal (VAC) | 230 |
| Output Voltage Nominal (VAC) | 230 |
| Physical (Dimension and Weight) | 190W X 188.3D X 132H mm 4.15KG |
| Design Standards | CE |
AVS M2KE
| | |
| --- | --- |
| Model | AVS M2KE |
| Capacity / Rating (VA) | 2000 |
| Input Voltage Nominal (VAC) | 230 |
| Output Voltage Nominal (VAC) | 230 |
| Physical (Dimension and Weight) | 213W X 234D X 155H mm 6.9KG |
| Design Standards | CE |
AVS M3KE
| | |
| --- | --- |
| Model | AVS M3KE |
| Capacity / Rating (VA) | 3000 |
| Input Voltage Nominal (VAC) | 230 |
| Output Voltage Nominal (VAC) | 230 |
| Physical (Dimension and Weight) | 256W X 318.5D X 200H mm 11.25KG |
| Design Standards | CE |
AVS M5KE
| | |
| --- | --- |
| Model | AVS M5KE |
| Capacity / Rating (VA) | 5000 |
| Input Voltage Nominal (VAC) | 230 |
| Output Voltage Nominal (VAC) | 230 |
| Physical (Dimension and Weight) | 256W X 318.5D X 200H mm 14.25KG |
| Design Standards | CE |