AVS CBM Series Safeguard Your Equipment From Voltage Fluctuations And Power Instability
Safeguard your equipment from voltage fluctuations and power instability with Neuropower's automatic voltage stabilizer (AVS). Intermittent voltage fluctuations will gradually decrease the lifecycle of electronic components, potentially causing unprecedented failure.
The AVS CBM series comes with a capacity ranging from 800 VA to 1,000 VA. It is a classic AVS, electrical surges and spikes protector. It's the most ideal power protection solution for small power scenarios.
The AVS CBM Series Safeguards The Equipment Such As
01
Entertainment
Devices designed to amuse, engage, or provide enjoyment to individuals or audiences through movies, music, games and performances.
02
SOHO
For professionals who operate from a small office space or their homes, typically engaging in various entrepreneurial or freelance activities on a smaller scale than larger corporations or enterprises.
03
Small Equipment
Compact and portable tools, devices, or machinery that are used for specific tasks, often on a smaller scale, and are typically easy to move, store, and operate.
PRODUCT FEATURES
Automatic Voltage Stabilizer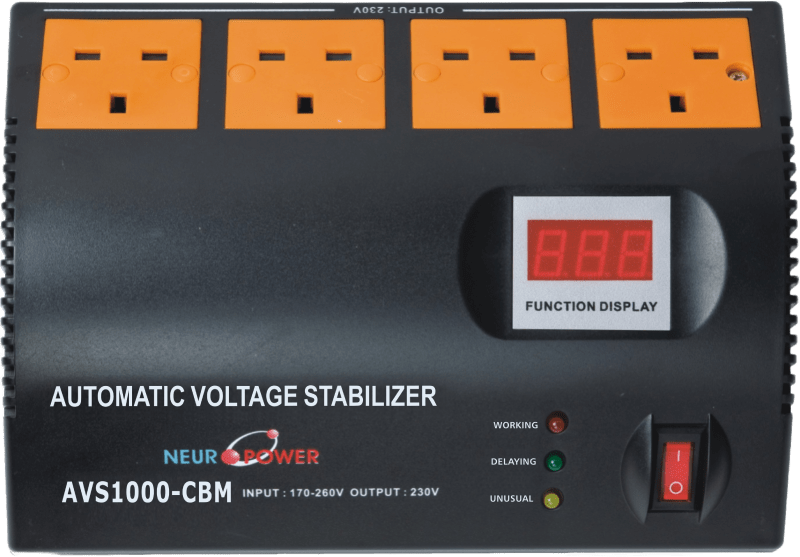 AVS 800 CBM
| | |
| --- | --- |
| Model | AVS 800 CBM |
| Capacity / Rating (VA) | 800 |
| Input Voltage Nominal (VAC) | 240 |
| Output Voltage Nominal (VAC) | 230 |
| Physical (Dimension and Weight) | 235W x 155D x 85H mm 2.0KG |
| Design Standards | CE |
AVS 1000 CBM
| | |
| --- | --- |
| Model | AVS 1000 CBM |
| Capacity / Rating (VA) | 1000 |
| Input Voltage Nominal (VAC) | 240 |
| Output Voltage Nominal (VAC) | 230 |
| Physical (Dimension and Weight) | 235W x 155D x 85H mm 2.5KG |
| Design Standards | CE |